Wednesday, February 23, 2005
Aparently it DOES exist
In the last post I made reference to how I'd love a Bluetooth Cassette adapter.
Well here it is.
posted by sAFETY at 1:50 PM
Tuesday, February 22, 2005
First truly innovative MP3 player in a while
The
Mobiblu DAH-220 MP3 player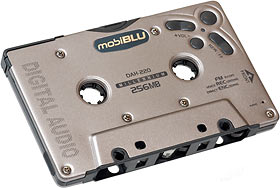 is cool in so many ways. Firstly, it just integrates cassette adapter technology so you can play your MP3s in your cassette player. But the coolest thing is that it detects how fast your heads are moving and skips tracks accordingly. This means that you can use your FF and RW buttons like you would with a normal tape.
Just this morning I was thinking it'd be cool to have a Bluetooth cassette adapter for those Bluetooth iPods that have been rumoured. This seems to be the next best thing.


posted by sAFETY at 3:41 PM
Wireless? YOU are the wire....
RedTacton
is a technology that let's you 'safely' transmilt data at up to 10Mbps (faster than your internet connection, slower than your hard drive) using your body as a conductor.
Imaging listening to your iPod with headphones that only require that you put them on... Or how about updating your PDA every time you touch your home computer's keyboard? Cool stuff....
posted by sAFETY at 11:17 AM
Thursday, February 17, 2005
Time Waster Extrordinaire
Google Fight
is a little web page that lets you pit search terms against each other.
There's no real value in it, but it sure is fun.
posted by sAFETY at 11:19 AM
2005 Technolgy With Cool '80s Bike Courier Style
Jason Bradbury is one of those guys who has too much time on his hands, but makes use of his time making things that make us smile. His "
: World's First Phone Glove!
" is just what it sounds like. It's a Bluetooth headset integrated into an old-school leather glove.


What I wouldn't give to see Kevin Bacon bombing down NY streets on his 10-speed sans-helmet talking to his hand (this cultural reference too obscure?)
posted by sAFETY at 10:58 AM
Wednesday, February 09, 2005
PocketProjectoR

The
Mitsubishi PocketProjector
looks pretty sweet. As most Laptop Ninjas I travel with the ability to become a portablee degin house, indy film studio, entertainement center, arcade, and of course, office. One of thse would add theater to this list nicely.
posted by sAFETY at 1:15 PM
Tuesday, February 08, 2005
Goodbye Kid Koala, Mixmaster Mike and Q-Bert, Hello DJ 101, DJ 110, and DJ 111
The scratchrobot
is just what it sounds like, a robot that scratches, though I don't think you could call it freestyle anymore. It's an interesting project that may have a future with lame bands that have added scratching to their acts in order to look hip, however DJing is one of the most subjective 'instruments' out there, so beyond a novelty I doubt this will go anywhere. Super cool geek project though!
posted by sAFETY at 1:56 PM
Hokkaido installs musical location signatures
If you drive on the highway, you're probably aware of the grooves responsible area governments put on the shoulders that create a tone that'll wake you up should you doze off and drift to the side. Well, this 'technology' is going to be
untilized in Hokkaido
in a finer form. Through careful placement of grooves, road builders can create little jingles that will resonate through the vehichle when driven over. How long 'till McDonalds has their jingles imbedded in the drive-through lane?
posted by sAFETY at 11:31 AM
Thursday, February 03, 2005
Is Tyler Durden Hobbes all grown up?
Here's a funny article
about the similarities between "Fight Club" and "Calvin and Hobbes". Makes a lot of sense actually.....
posted by sAFETY at 7:33 PM
Wednesday, February 02, 2005
Is That Some Broadcast Video in You Pocket or.....
JVC has just introduced what seems to be the World's smallest 3CCD chip camera.
Thee GZ-MC500
is sure to add a new dimension to reality TV seeing as you can fit it in the palm of your hand.....
Engadget has some info on the unit in English
. (if you're not sure, 3CCD makes the video colour better and is the starting point for what is considered 'broadcast quality')
posted by sAFETY at 11:53 AM